Gepubliceerd op 12-06-2017
Madness in Civilization: Current research into the history of psychiatry in the Low Countries
On the second of June 2017 historians, sociologists and academics from the health sector, law and media studies gathered in the VOC room of the University of Amsterdam for the symposium Madness in Civilization. The conference aim was to evaluate the history of madness in the Netherlands, not only focussing on the historiography of this field but also on new and ongoing research.
The symposium took off with a welcome word and introduction by prof. dr. Liz Buettner, the director of the Amsterdam Institute of Historical Studies. This was followed by an interesting interview with prof. dr. Joost Vijselaar (Utrecht University) and prof. dr. Andrew Scull (UC San Diego), two of the founding fathers of the history of psychiatry. The interview offered the audience a personal outlook in how they became historians of psychiatry – which happened for both rather by accident. They talked among others about their favourite projects and biggest research frustrations – such as the difficulties with researching patient voices – but also about how the field has developed over the years, the alleged 'progress' of psychiatry and the research themes that are now emerging.
Concerning this last question prof. dr. Scull mentioned that it is important that we look at psychiatry outside of the western world, focussing on what happens when western ideas about madness/psychiatry collide with indigenous ones. In addition, he sees more and more research being done on therapeutics and an increased interest in the 21st century. In his turn prof. dr. Vijselaar stressed that more research is needed in the realm of the pre-modern world; about the reception of madness/mental illness in society (for example by studying the representation of psychiatry through newspapers) and thirdly that historians should pay more attention to neurology, a subject that so far has been neglected by historians.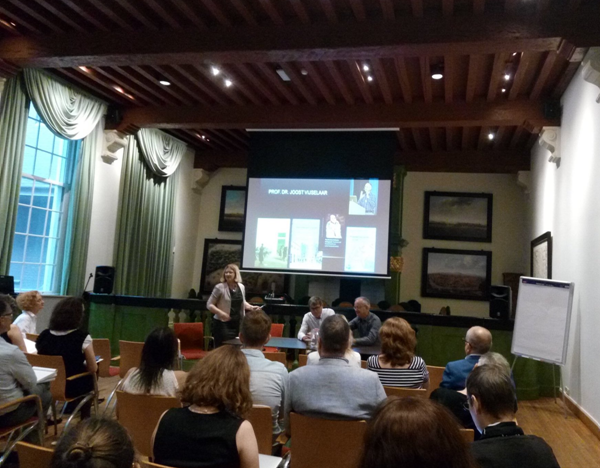 Assistant-professor dr. Gemma Blok interviews prof. dr. Andrew Scull and prof. dr. Joost Vijselaar
(Photo by Benoît Majerus)
Hereafter presentations were held by researchers with different backgrounds, making the symposium an interdisciplinary gathering, touching upon a wide range of topics. Martje Aan de Kerk (MA, University of Amsterdam) started with a history from below. Aan de Kerk focussed on the agency of mad/mentally ill people in the 18th century and her case-studies of people proving their (in)sanity gave us a rare glimpse of how people describe themselves as being mentally ill and about experiencing madness in this period. Very telling in this regard was the quote from the British Nathaniel Lee after being incarcerated in Bedlam for five years: 'They called me mad, and I called them mad, and damn them, they outvoted me'.
Dr. Benoît Majerus (associate professor, University of Luxembourg) spoke about the high mortality rate of psychiatric patients during World War One in Belgium, showing that the risk of dying increased significantly when you were a mental patient: the general excess mortality rate was 1,5% whereas that of asylum patients was 23%. Majerus showed that these death rates can't be explained only by the Spanish influenza as much of the established literature claims, but that other factors were clearly at play as well: dead reports noted more lung diseases and diseases related to severe malnutrition, because of the lack of supplies such as food and coal, but also the lack of financial support from the state. In addition, Majerus's research wants to bring the 'civilian' patients during and after the war back into the picture.
After a lunch break the symposium continued with a lecture by mr. dr. Lydia Dalhuisen (Utrecht University) about pyromania, focusing on the (un)accountability of fire setters in court. She demonstrated that theories and beliefs about pyromania in the medical world as well as in court changed between 1800 and 1950: shifting from an irresistible impuls, to connections with degeneration, to a focus on motives and pathology, resulting in different ideas about (un)accountability and punishability.
Ellen Nieboer (MA, Regional Archives Nijmegen) talked about Eastern migrants who had travelled to the United States but were sent back because of mental illness and ended up in Dutch asylums during the early 20th century. She showed how insanity was constructed in the United States and the Netherlands. When diagnosing these migrants, American and Dutch physicians mainly used their intuition and prejudice, using other physical or psychological instruments mostly to confirm their intuition, which was biased by language barriers, ethnicity and gender.
Prof. dr. Patricia Pisters (University of Amsterdam) gave a presentation about madness, cinema and psychopathologies in media culture. Madness/mental illness has been pictured in film from its early beginnings, showing us how the depiction of madness/mental illness changed and the focus on specific aspects of psychiatry shifted. A few examples of the films that were mentioned are Le Mystère des roches de Kador (1912), Das Cabinet des Dr. Caligari (1920), The snake pit (1948); Spellbound (1945); Shock corridor (1963); One Flew Over the Cuckoo's Nest (1975) and more recent the films Augustine (2012) and Shutter island (2010). Films such as these could be used to study the ideas and receptions about contemporary notions of 'madness'.
Last but not least the symposium ended with a keynote by prof. dr. Andrew Scull outlining how madness/mental illness was looked at and treated from the ancient world, over the 19th and 20th century until the present day. He ended his lecture with the important note that the history of psychiatry is not a story of pure progress: conditions for psychiatric patients have in some regard improved, but we still have a limited knowledge of what mental illness is and where it comes from, let alone how to cure it. As prof. dr. Vijselaar remarked at the beginning of the conference 'psychiatry is a tragic science'.

Prof. dr. Andrew Scull during his lecture about madness and meaning
(Photo by Eva Andersen)
After the keynote prof. dr. Frank Huisman (Maastricht University and Utrecht University) made the closing remarks, emphasising the striking diversity of research topics that were touched upon and the further questions that they pose for the history of psychiatry.
– Eva Andersen (C2DH, Université du Luxembourg)